---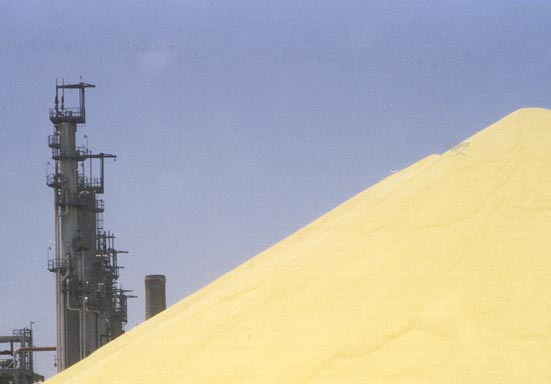 SULFUR RECOVERY
Conventional Claus Technology:
12 years with Fluor as Gas Processing expert in Technology planing.
- investigation of potential for off color sulfur due to hydrocarbons with DGA amine treating.
- COS formation in solid bed, sour gas dryers
- mercaptan removal from refinery fuel gas, impact on Claus plant
- Evaluation of tail gas treating technologies

- Sulfreen
- CBA
- SCOT
- Sulften, Exxon Flexsorb
- SuperClaus
- etc.
Oxygen Claus Technology:
Representing BOC Gases, participated in Front End Engineering Designs, review of Control System logic, P&ID reviews, HAZOPS, and start ups for refinery sulfur plants using up to 100% oxygen. Inventor of one patent assigned to client, currently pending.
- BP, Lima, OH refinery (now Clark Oil)
- Valero, Corpus Christi, TX refinery
- Shell Oil, Anacortes, WA refinery (now Tesoro)
- Chalmette, Chalmette, LA refinery (Mobil/PDVSA)
- Texaco, Anacortes, WA refinery (now Equilon)
- Imperial Oil, Nanticoke, Ontario refinery (Exxon)
- Chevron, El Segundo refinery
Developer of NoTICE process - (patent issued)
Evaluation of competitive technologies
Technical Audit of S02 generation technology
Process studies and Proposals.

e.g. Sulfur Plant Expansion re: NoTICE
- Study for Texaco
- Study for General Chemical (Shell Sulfur Plant)
- Study for CONOCO
- Study for Murphy Oil
Consultant to Ultramar
extensive review of commercially available technologies

- control scheme, ammonia destruction, S03 formation, maximum temperatures, pressure drop/maximum capacity, etc.
- review of modifications to facility required for each option.
- review of cost estimates for modifications.
Consultant to Powerine
study for expansion of existing skid mount plant

- determine capacity limits
- review of equipment for modification requirements
- review of tail gas treating unit for modifications
- review of costs
- process selection, etc.
---
Publications related to Sulfur Recovery